Close to 100 guests joined Misericordia Nursing & Rehabilitation Center as we hosted a Celebration of Service / Groundbreaking Ceremony on Monday, July 11, 2016.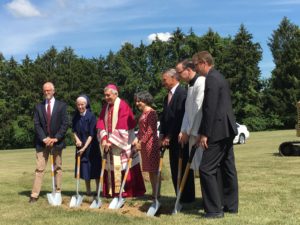 We were excited to announce the groundbreaking ceremony for The Campaign for Misericordia: A Legacy of Caring – A Future Bright With Promise. This is a pivotal time for Misericordia. Thanks to the wonderful support of community members, friends and benefactors, Misericordia will be able to enhance its physical space, improve security and create an environment that allows our residents to feel more at home in our building. We have raised over 1.3M of a 2M campaign. As we enter the final, public phase of our campaign, we anticipate support from our local community and those closely tied to Misericordia and the Daughters of Our Lady of Mercy.
Construction of the 7-million-dollar project is scheduled to begin the first of August with completion in early 2018. Construction will occur in phases starting with the building of a large new resident activity room with adjourning deck. Enhancements to services have already begun starting with the installation of our new resident/nurse call system.
We have partnered with RLPS Architects and Wagman Construction who bring expertise in building/renovating retirement communities. We are confident that the enhancements will better accommodate the needs of our ministry to the elderly and their families.
Success will enable us to carry out the mission of the Daughters of Our Lady of Mercy by serving our residents with a heart of mercy. None of this could have happened without the vision and commitment of the Daughters of Our Lady of Mercy. Sixteen sisters joined us on Monday and received special recognition for their dedication and service.
President of the Advisory Board, George Shorb recognized the Sisters: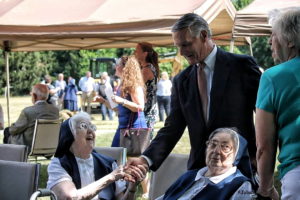 "For 73 years, the sisters have unselfishly provided compassionate care to the elderly residents of York County. 52 years ago, on July 13, 1964, the Sisters broke ground for the construction of this building. Today we are pleased to be renovating and upgrading the facility. Sisters, we can't thank you enough—for all the years of Caring and Dedication to your Ministry."
Shared Sister Ambrogina Aldeni D.M., Provincial of the Daughters of Our Lady of Mercy: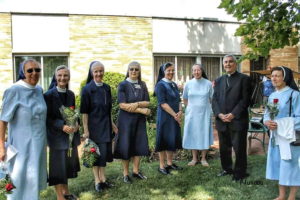 "Now the dream continues as we set out on the next path of Misericordia's journey – that of reconstruction and renovation in order to continue this work of Mercy in a facility that will offer an even better place in which to care for those who come here seeking hope, love and compassion."
We would like to extend our gratitude to Bishop Ronald Gainer who as Shepherd of the Diocese of Harrisburg blessed our endeavors.